OUTSTAFFING: WHAT YOU NEED TO KNOW NOT TO BE MISTAKEN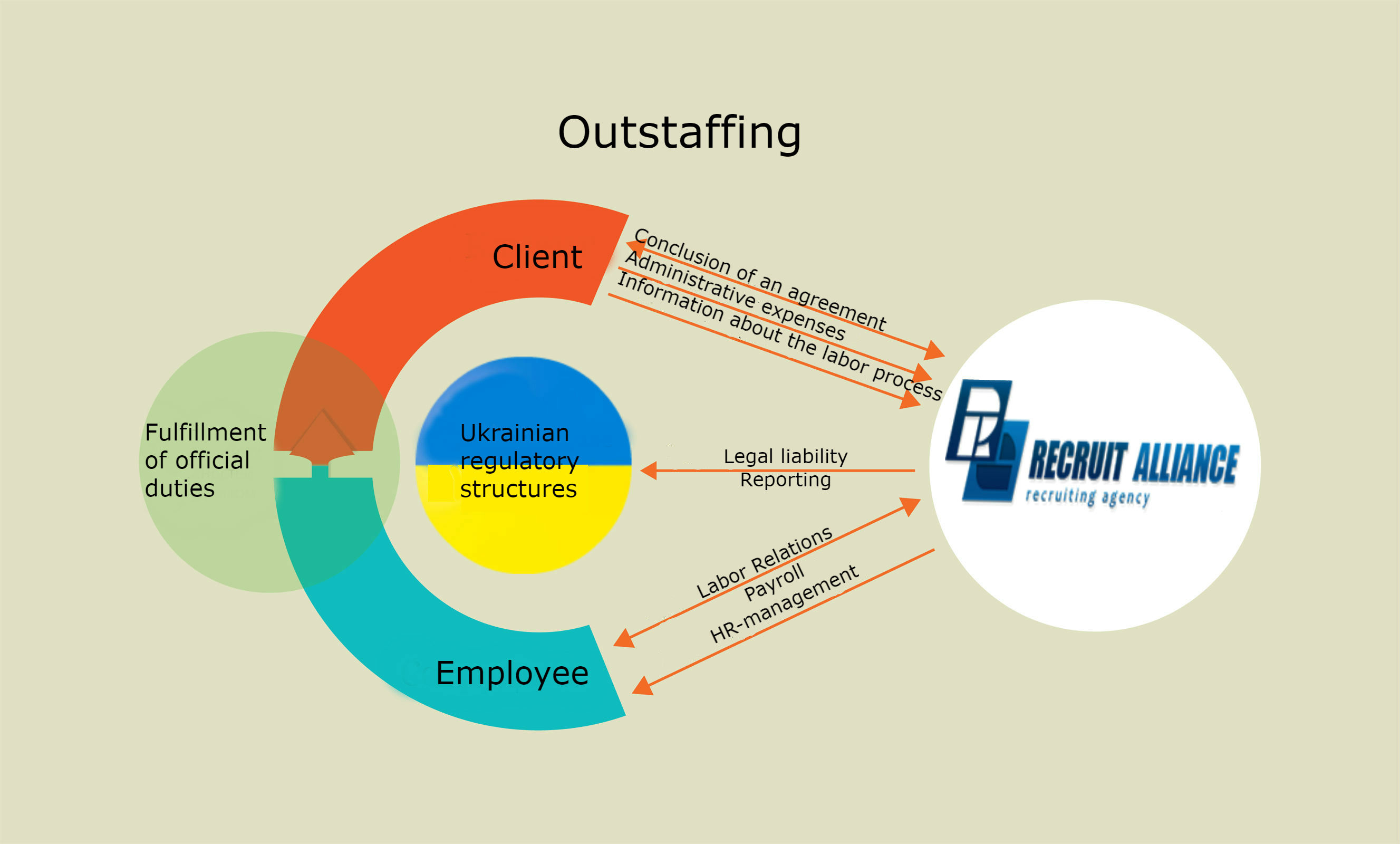 7.2.2019
Almost 8 years ago, in 2011, the Recruit Alliance company introduced its first outstaffing project. After 2 years we entered to the list Top-5 recruiting agencies that provide this service. To date, we have implemented more than 10,000 successful projects throughout Ukraine.
But until now many businessmen do not understand what "staff outstaffing" means and who needs it.
Outstaff" literally means "out-staff." These words are the main meaning of the concept – the withdrawal of personnel from their staff by means of issuing it to the staff of another "outstaffer" company.
Lawyers cite the Tax Code of Ukraine: outstaffing is defined as a "personnel service" and is "an economic or civil law agreement according to which a service provider (resident or non-resident) sends one person to another person (resident or non-resident) or several individuals to perform the functions defined by this agreement "(paragraphs 14.1.183 of the TCU – today this clause is excluded, but it is sometimes used in legal practice).
This is not outsourcing, but a completely different type of activity. It implies the preservation of the most comfortable conditions of cooperation for both the staff and the client company. Differences will be noticeable only on paper and during the recalculation of the balance sheet. By the way, outstaffing in Ukraine is a great way to reduce costs, but let's talk about it later.
In some cases, this service is resorted to temporary solution of complex issues: for example, actions or seasonal work are planned that require hiring a large number of temporary employees, and there is no resource for bookkeeping or employment. Then the "outstaffer" company takes on these efforts and the customer company does not have to worry about the legality of the processes.
Outstaffing is useful to other companies all year round, because it helps to relieve ourselves of the risks of resolving labor disputes. Or, for example, to reduce costs by up to 20% for the payment of salaries, without reducing them in size and not transferring them into an illegal field. Another plus is that outstaffing helps to remain on the same taxation group and increase the level of investment attractiveness, even in the conditions of a constantly growing state. All these, as well as many other pleasant moments, are not mutually exclusive, but only in terms of cooperation with legally working recruitment agencies (see Resolution of the Cabinet of Ministers of Ukraine of 20.05.2013 No. 359).
In addition, it is important what a residence outstaffer. Recruitment agency, registered in Ukraine, makes contributions to the pension fund, which means that the client company's staff will be able to accumulate their experience for receiving a pension and retain the right to social benefits. Recruit Alliance always works in the legislative field without the use of conversion schemes.
What conditions are received by the "reissued" employees of the client company: social security, registration of labor relations under the Labor Code of Ukraine, the official salary is not below the minimum level, they retain all rights and the guarantee of the Labor Code of Ukraine.
If you have any questions or would like to discuss your unique situation – call. Outstaffing is possible in the city of Kiev or any other settlement of Ukraine. Including we provide services to foreign companies.